#1 Highest Rated At-Home Laser Hair Removal Handset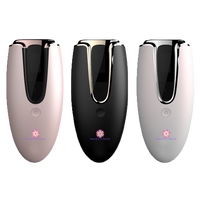 Why MajestySkin?
MajestySkin offers the best of both worlds – Salon quality hair removal that you can do at home. The original at-home IPL laser hair removal company. Visible results in just a few treatments. Backed by our 30-Day 100% Money-back guarantee.
Our Vision:
We see women who sacrifice time and money going to salons or have to put up with razors and waxing. Where is the in-between? We like to think that is where MajestySkin comes in.
Our Main Goal:
Is to help women feel their best without having to sacrifice time, money or having painful experiences.
MajestySkin wants you to be the best you – without sacrificing your time, money, or comfort.
buy now
MajestySkin Mini Shaver
Who doesn't dream of perfectly shaped eyebrows: It's not always easy to work on your eyebrows with tweezers or wax, and it's often painful!
The MajestySkin Mini Shaver is faster, easy to use and painless, making it your ideal beauty accessory!
Learn more
Customer Reviews
Used only 3 times so far, but on the legs hair became noticeably slower to grow.

Vennesa A.
I'm loving it!!! Thanks for the great service.

Hannah C.
It came very fast! And it came super protected. Highly recommended!

Jessica H.
Join us on Instagram @MajestySkinOfficial